Jimmy Bruno Guitar Institute Shatters Enrollment Projections, Introduces Proprietary Technology
The Internet-based Jimmy Bruno Guitar Institute (JBGI) announces that it has quadrupled in size, in just the last six months, to over 1350 paying students. Originally designed for 350 students, the JBGI has shattered all enrollment projections since opening in May 2007. "The growth has been phenomenal and gratifying", says Affiliated Artists CEO and JBGI co-founder David Butler. "Now that guitarists know Jimmy Bruno's unique and effective guitar method is available online, it has spread like wildfire."
Digital Music - Home Studio Music Recording
By Brian Beshore
Home recording has come a long way in the last few decades. Many people do not realize that much of what they hear on T.V. and in commercials is electric.
Many people still have a negative connotation about how electric music sounds. They think that it must always have a cheesy sound.
Part of this stigma is the confusion over midi. and wav. sound files. Simply put, midi is a signal that is sent to a sound card and triggers a note on a preset instrument sound. Therefore, the sound you get from a midi. sound file will only be as good as the sound card you are using.
The Digital Lowdown - Digital Only Releases: Pros and Cons

"When does your CD come out?"
by Steven Corn (BFM Digital),
More often than not, a typical response from an artist is that they are planning a digital only release and then they'll see how it goes. The decision to press CDs is usually postponed until it is determined if the album sells online or not. Practically every week, there is another digital-only label popping up while all the pundits proclaim the impending death of the CD-format.
If you are looking for a high quality solution to transforming your MIDI files into stunning audio tracks, you've got to take a look at REAPER.
At only $50 for non-commercial use, Reaper stacks up with some of more expensive multitrack audio software programs around. Reaper is shareware, but you won't get any long delay nagging screens, nor is is time limited. But Reaper is one of those shareware programs that you'll be happy to pay for as soon as you start using it. It's simply that good.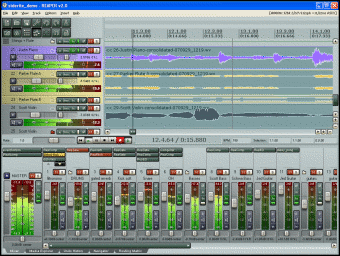 The features appear limitless, particularly its intuitive routing system. Make use of VST or DX plugins (many free on the internet) to transform yourself into an audio engineer.
To download Reaper, or find out more, visit www.reaper.fm
Getting To Know Cubase SX
By Samuel Chapman
Getting to know Cubase SX can be a struggle, especially if you are new to music production. However when you do, the possibilities are endless. With incredible MIDI and audio recording and editing functions Cubase is a fantastic music creation tool.